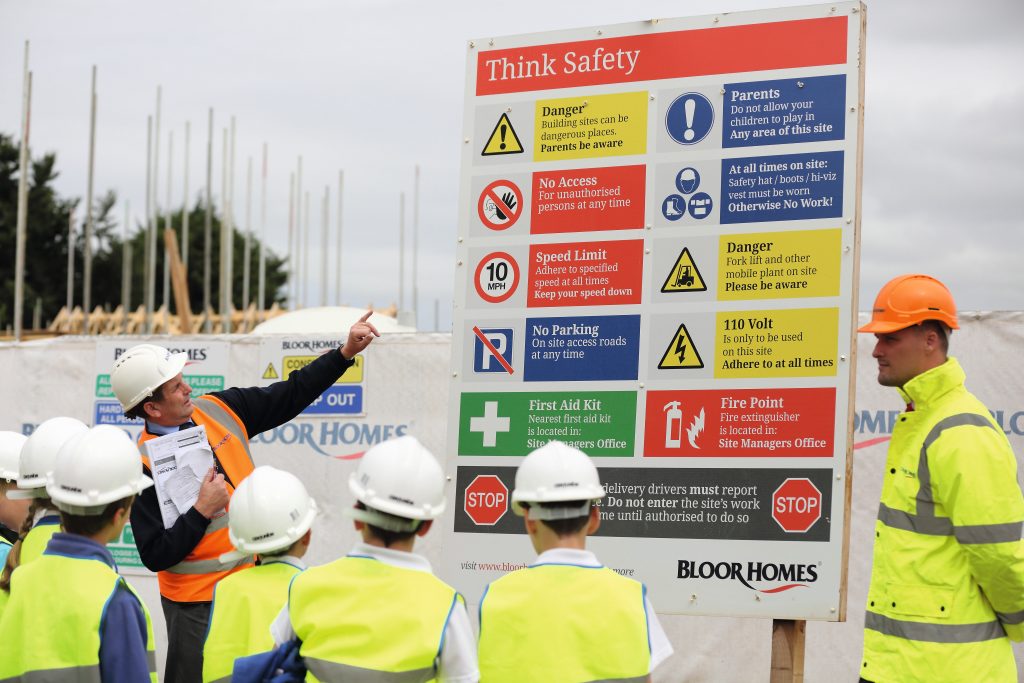 As the school summer holidays fast approach, Bloor Homes South Midlands is launching a campaign to raise awareness amongst children in Hanslope of the dangers of entering and playing on building sites.
With construction ongoing at its nearby Hanslope Fields development on Castlethorpe Road, the family owned builder wants to educate both teachers, parents and children, helping to prevent any unnecessary accidents during the six week break.
Construction Director, Carl Slater explains: "Whilst the number of children killed or injured on UK construction sites continues to fall, there is no room for complacency. That's why we believe in the importance of reminding young children about the dangers of entering building sites, especially before a long holiday when they have more time to play.
"In addition to arranging site safety visits for school children to a number of developments across the region we have developed five simple reminders for parents and teachers to tell children, helping keep them safe over the summer."
Safety first this summer
Never enter a building site – building sites can be dangerous places and should never be entered by members of the public, especially children
Large moving vehicles – large vehicles drive in and out of building sites regularly to deliver materials. Children should never play close to the entrance of a building site or on the building site itself as they may not be seen easily by a driver
Dangerous materials – there can be the risk of falling materials and/or hazardous and flammable materials stored on site. It is important that anyone entering a building site has permission to be there, has received the proper training and is wearing the correct safety clothing
Machinery in operation – while they may look like big toys, the heavy and dangerous machinery which is in operation on a building site could cause serious injury to a child. Children should never play on or near to any machinery on a building site
Openings and excavations – during construction there can be areas where the ground has been dug out or ledges from which building work is taking place. Whilst these will be barriered off to prevent falls, it is important that children do not enter a site and put themselves at risk
Carl continues: "We hope that these simple facts will help parents and teachers across Hanslope to spread the word to children in the area about the importance of safety on building sites.
"Whilst we always ensure that all of our construction areas are fenced off with the correct warning signs in place we still want to make sure that children understand the dangers and can enjoy their summer holidays without risk of injury."
Hanslope Fields currently offers a range of three, four and five bedroom homes, with prices for a three bedroom Kipling design starting from £340,000.
For more information on the homes and incentives available, please visit the marketing suite on Castlethorpe Road, Hanslope, MK19 7HQ. Alternatively call the sales team on 01908 886 960 or visit https://bloorhomes.com/developments/south-midlands/hanslope-fields.
Established in 1969, the Bloor Group is now one of the largest privately owned housing groups in the UK
Bloor Homes is based in Measham, Leicestershire, and has seven regional offices across the country