Not one to miss a chance to dance, and with a philosophy of "volunteer first, think later" Anne entered the Heart FM Strictly MK Golden Ticket competition hoping to win a celebrity place in Strictly MK.
Having won the Golden Ticket, Anne, one of Hanslope website's Webmasters and a Trustee for Hanslope 326 Club, is enjoying the challenge of learning new dance steps with her professional partner, Adelmo Mandia and looking forward to dancing her heart out alongside the other local celebrities, not to mention swapping her website editing and committee work for a glamorous dress.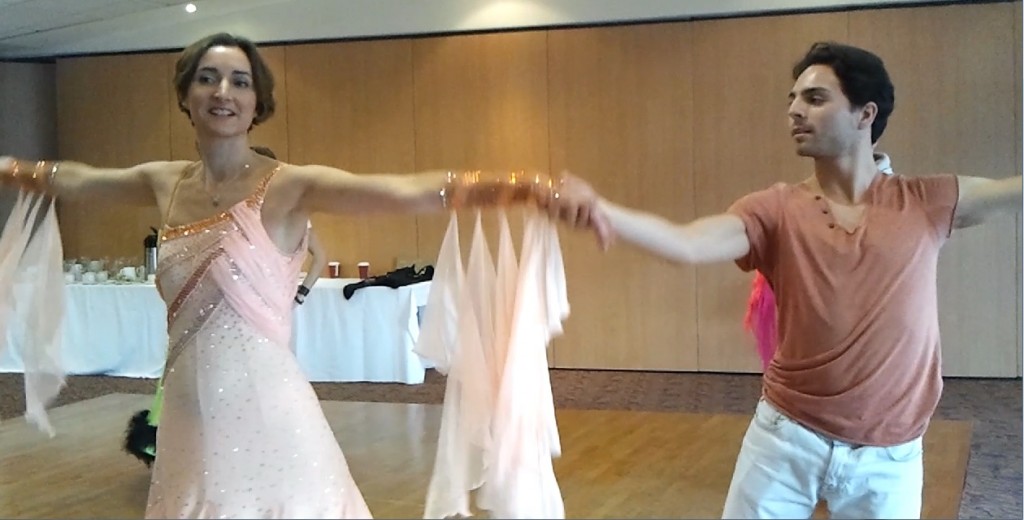 It is the first event of its kind in the Milton Keynes area and will take place on the evening of Saturday 26 October 2013 at the International Indoor Arena at Bury Farm Equestrian Village in Slapton.
15 contestants will be paired with 15 professional dancers, all of whom are ranked highly on the UK dance circuit.
The event will raise funds for Macmillan Cancer Support and Willen Hospice. It follows a similar format to 'Strictly Come Dancing', the hugely successful BBC TV show presented by Bruce Forsyth and Tess Daly.
Anne is very excited, and a little bit nervous, to have won and is very proud to be able to help raise much needed funds for both charities whilst dancing the night away. She has been dancing modern jive in her spare time for many years.  She met her husband at a Ceroc Bedford freestyle dance and several years, a few pairs of shoes and two children later she still dances regularly.
Tickets are selling fast so why not come along and support our very own dancing Hanslopian! Grandstand tickets are now available at a discounted rate of £15 if you quote that you will be supporting Anne!