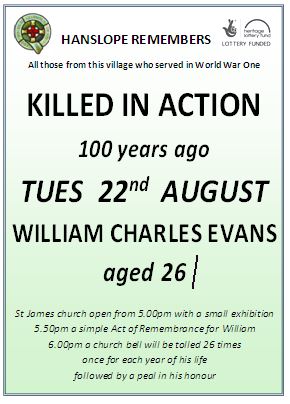 William was a Private in the 2nd/1st Bucks Battalion, Oxford & Bucks Light Infantry and killed at Passchendaele, during the phase known as the Battle of Langemarck. Initially buried by the battlefield, in 1919 his body was transferred to Tyne Cot Cemetery and identified only by his disc.
Between 31st July and 28th August that year 68,010 men were injured, of whom 10,266 were killed.
Tragically this was the second death for the Evans family that year. We remembered his cousin Arnold in May – they were neighbours in Newport Road.
The crosses at his headstone were placed, on our behalf,  by recent visitors who found and photographed William's grave for us. Many of the unknown men are from the same regiment. Tyne Cot has nearly 12,000 graves and records another 35,000 men whose bodies have not be found or identified.
Hanslope WW1 Commemoration Committee